WordPress is a flexible, powerful, easy to use content management system that can be used for just about any type of website you can think of. While it is mostly known as the tool of choice for bloggers, it also powers countless e-commerce storefronts and marketing sites. One of the primary benefits of using WordPress is that there is a thriving economy of solutions for any type of custom page you may need to add to your site, including search engine optimized landing pages.
WordPress landing pages
can be built using any number of quality plugins or themes. Narrowing down your choice of tools will depend on your exact needs.
What is a landing page?
A landing page is a page designed to generate sales or leads. Of course, your entire website should be working toward this goal in one way or another. A landing page is just more direct. It will present a specific offer, highlight a specific product or service, or encourage an interested user to leave an email address or phone number so you can follow up with them.
Landing pages are often associated with particular marketing campaigns. They are designed to be linked to in ads, shared on social media, and highly placed in search results.
Why do I need a landing page?
Landing pages are a place to make a direct sales pitch to potential customers. They allow you to convince the visitor of the usefulness of your products and services without them having to click through several pages on your site looking for information. Visitors, especially first time visitors, are not going to be vested in your company or website. You must show them the value in what you are offering right away. That is where landing pages come in.
Why choose WordPress for my landing pages?
There are several reasons to use WordPress to build your landing pages. WordPress is a great choice if you are already running your site, or part of your site, with WordPress. You can create, edit, and maintain your landing pages directly from the WordPress backend where you are already monitoring analytics and writing blog posts. Creating your landing pages in WordPress will also help maintain continuity with the rest of your site's design.
With the right plugins or themes, it is very easy to create a quality landing page without every touching any code. There are many plugins, including some created specifically for landing pages that provide visual editors for customizing the layout of the page. In addition, all the content can be written or edited in WordPress's built-in text editor. Other plugins and themes include pre-designed landing page templates so you do not need to worry about anything but your sales copy.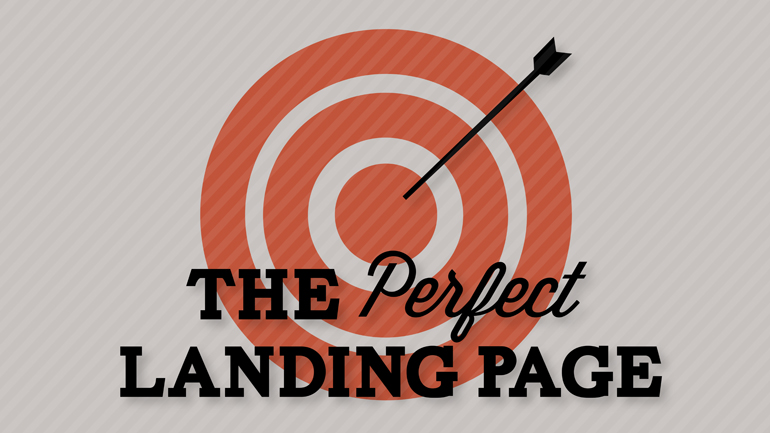 WordPress strictly follows web standards and makes smart use of metadata, ensuring better search engine optimization. You can have the best sales pitch in the world, but you still need customers to find it. WordPress's focus of web standards means that pages will naturally be ranked higher in search engine results. WordPress also allows you to customize URLs with the "pretty permalink" feature. Having an easy to read, easy to remember, URL is important when posting links to social networking sites.
Theme Templates
One approach to creating WordPress landing pages is to use a theme that has a landing page template (or a template that could serve as a landing page). This is the simplest way to create a landing page, but also the least customizable, especially is you want to stay away from code. Many premium theme shops and markets will have business themes that offer landing page templates.
There are a few features to look for in landing page templates. You want the option to remove menus and sidebars. Landing pages should not be cluttered with unnecessary items and many prefer them to not be integrated into the rest of the site. You also want support for major plugins such as Mailchimp and WooCommerce. This is important for adding things like "Buy Now" buttons or email subscription sign-ups. Finally, look for templates that allow large images and full width sliders. These can often add a professional touch to landing pages.
Plugins
Plugins are great for creating more customized landing pages. Again, there are many free and commercial plugins that can be useful. The WordPress Plugin Repository is a good place to start looking.
You will want to find a plugin that has a visual editor was building page designs. This will let you layout the landing page without the need to dig into the code. You may also look for helper plugins. These are plugins that provide one or more elements that can be added to a landing page, but doesn't determine the layout of the page itself. These include things like social media links, email subscription forms, testimonials.
One approach is to find a plugin that created specifically to help design landing pages. These plugins will generally include dozens of built-in layouts that can be lightly customized to fit your needs. They will include, or integrate with other plugins that include, landing page specific elements like social buttons and email forms. These plugins are usually commercial products in themselves, but are worth the cost if you need an all-in-one solution to help you quickly create professional landing pages on WordPress.
By combining WordPress with the right theme or plugin, it is possible to create a professional landing page that results in increased leads and sales. Finding the right solution is just a matter of assessing your needs and choosing on or more of the solutions that fits your use case. WordPress is an incredibly flexible CMS that makes it fairly easy to create pages that lead to conversions.


Read more: http://www.webdesign.org/how-to-create-a-landing-page-using-wordpress.22542.html#ixzz3n5grE5A3