Riot Games has announced the beta for a brand new feature coming to their popular first-person shooter Valorant. Premier, as the new mode is called, was originally revealed in an alpha version in Brazil in October. It seems the product is nearly ready though with a global beta set to begin during Episode 6 Act 3 according to a press release from Riot.
Premier is a competitive system in which players can build a roster of five players to compete in pre-scheduled matches against teams of a similar skill level. Each team will be placed in a division where they'll battle it out for a shot at making a playoff tournament.
It's assumed that the team's overall skill level will be determined by the ranks of the players involved, but nothing has been confirmed by Riot as of now.
---
---
Valorant's new Premier system will give players an entry point to esports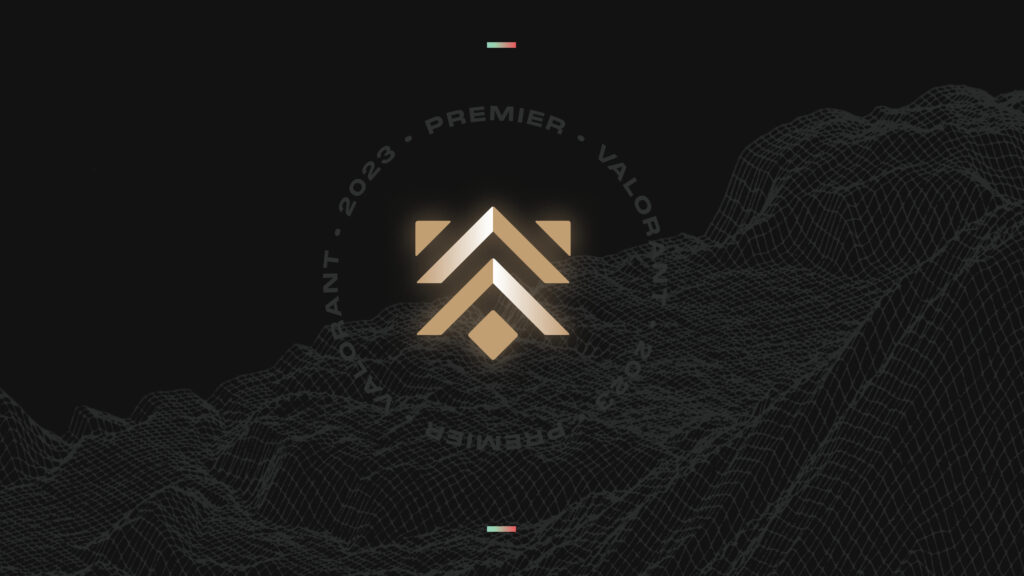 This new system opens the door for new players and teams to jump into the esports scene and make something out of it and that appears to be exactly what Riot is hoping for.
Riot has stated that they plan on the in-game circuit being a path to the VCT Challenger Leagues across the regions. "No more qualifier events; players who excel will get a shot at Challengers and playing against pro teams," the press release states.
Given that the Challengers League is a direct opportunity to compete in the international circuit and even make it to Champions, this is a chance for players to put a team together and work toward their dream.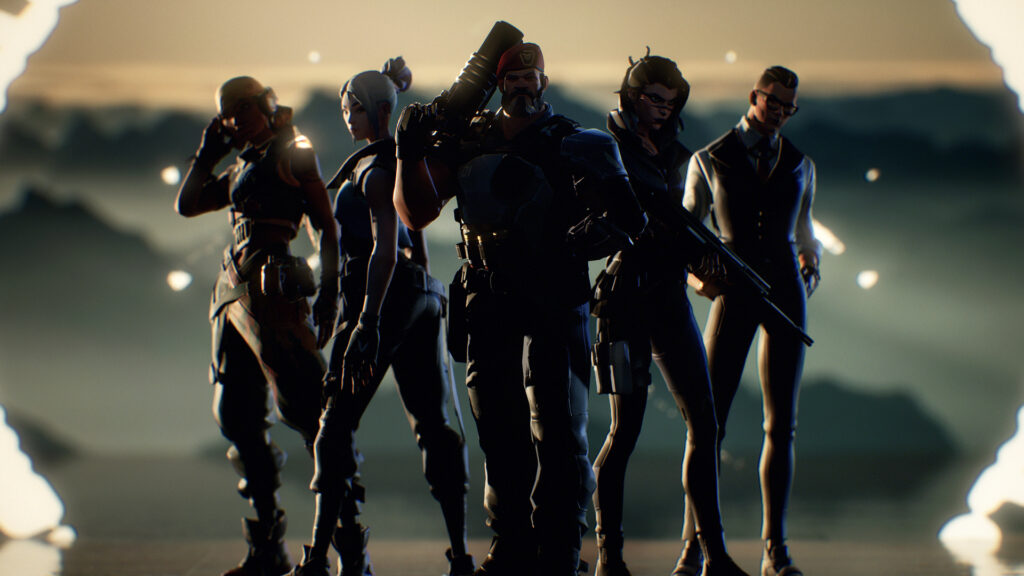 This is just another step for Riot in their quest to make Valorant a top-tier esports title and we have to admit, it looks like a big one. Very few, if any, games out there give players an opportunity to earn their way into the biggest leagues directly through the game itself.
In the previously mentioned alpha test phase, players in Brazil were able to jump in and test the following features according to the official announcement.
Team creation (with team logos and colors)
Server load
Tournament play (including a map pick-and-ban system)
Premier Score (and qualifying for the end-of-season tournament)
Matchmaking and queue health throughout the Alpha
General bugs
…and much more!
Those interested can expect even more details regarding Premier when the global beta launches in Episode 6 Act 3.
Exclusive: Meet the women behind Valorant's super cool VCT clothing collection
Where esports meets fashion.
BY AMANDA "TANIA MAE" TAN MARCH 3, 2023 1:00 PM
SHARE ARTICLECopied!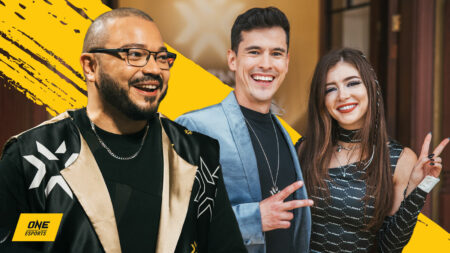 Updated on February 27,6:13 p.m. (GMT+8): Improved relevancy.
Before I flew to Istanbul for the final days of Valorant Champions 2022, I watched the group stage and playoffs matches live on Twitch with a friend.
"Do you see that vest the caster is wearing? I want that VCT clothing. Can you buy it when you get to Turkey?" he asked.
Squinting at the screen, I saw a reflective VCT logo on the caster's vest. The official Valorant Champions 2022 collection was already on sale, but none of the branded pieces that the talent wore were included.
On the very first day I arrived in Istanbul, I accidentally uncovered the story behind the outfits.
I had joined a sizeable group of Rioters, influencers, and talent in touring the historic city. During dinner at the famous Salt Bae restaurant, Nusr-Et, I happened to sit next to a lady wearing a cute light green summer dress and trendy boots — only to discover that she and her best friend were the very people responsible for dressing Valorant's broadcast talent and creating one-of-a-kind VCT clothing and accessories.
---
---
Valorant Champions 2022 was extra special because of its unique VCT clothing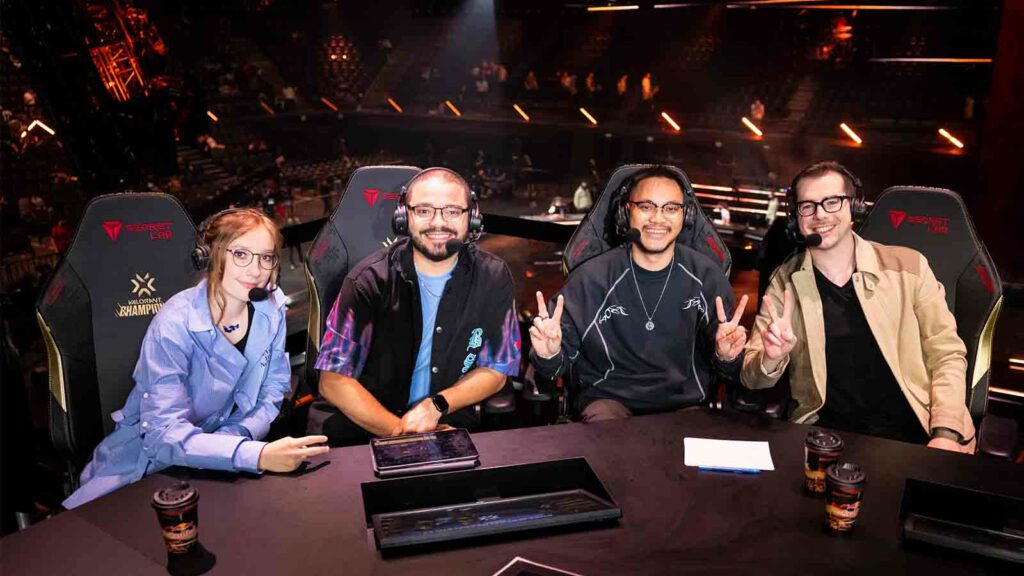 Mina and Christina, the power duo who empowers talent through wardrobe
For the first time in Riot Games history, Valorant Champions 2022 featured its very own mini VCT clothing collection.
In fact, every outfit on broadcast worn by casters, hosts, and pro players on the desk were styled, fitted, modified, and sometimes even made from scratch by Christina Greiner and Mina Katharina Muraschkin.
Based in Berlin, Germany, they were first involved in the VCT one year ago during Masters Berlin. Just days before the event, the original stylist wasn't able to fly in, so Riot Games Executive Producer of Valorant Esports Events, Jean-Baptiste (JB) Blot had to find a replacement, and fast.
He already knew Mina beforehand as they had both worked in the entertainment industry, and she agreed to come on board. Three days later, Masters Berlin started.
"I never had anything to do with esports. It was so new for me. I was only in fashion, music videos, styling, editorial," Mina told ONE Esports.
A fashion designer who used to dance professionally on the side, she has created costumes for shows on cruise ships and hotels, in addition to custom pieces for artistes. Christina, too, had previously worked with local artistes, as well as brands like Nike. At Masters Berlin, however, their only job was to dress the talent and ensure that they were broadcast-ready.
"I had no idea what was going to happen and I was shocked when I realized how big this whole event was. It's a whole different world," Mina recalled.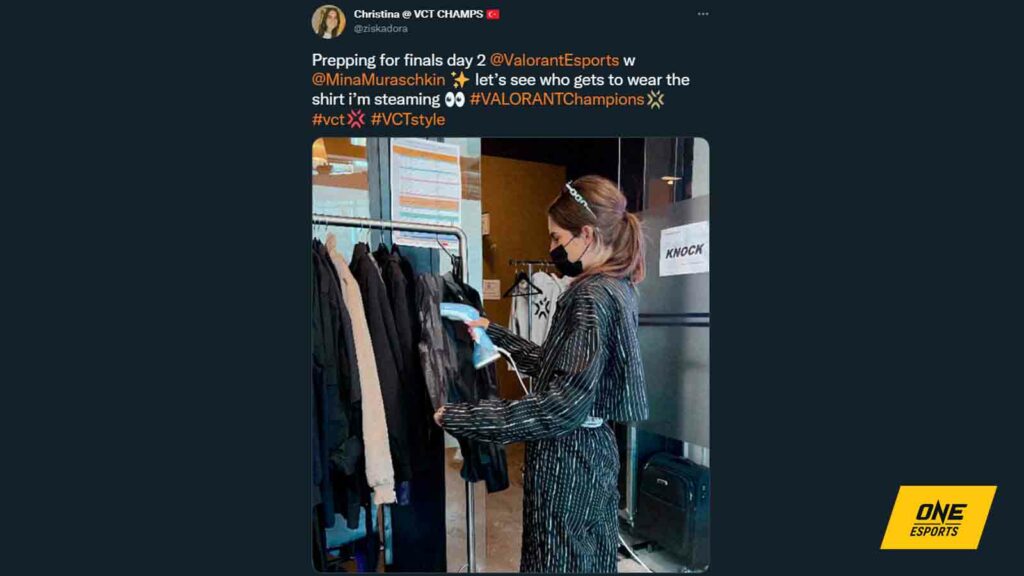 ---
How VCT style evolved from Masters Berlin 2021 to Valorant Champions 2022
Fast-forward one year, and she and Christina were coming up with their own prints and designs for VCT clothing and accessories.
They had mostly bought clothes for the first few events, but they soon went on to share original concepts with the production team at Riot, who loved their work. Mina especially could not hold back because she was a fashion designer who liked to create, "cut up stuff," and "make new things out of them."
"I remember in the beginning we were so shy. But they were so receptive to everything we did, and after a while, we got a bit more confident. They gave us creative freedom," said Christina.
The dynamic duo were already planting the seeds for Champions in Berlin. Christina had suggested that Mina lend the broadcast some of the original designs from her archive, so they could have more options on top of store-bought clothing.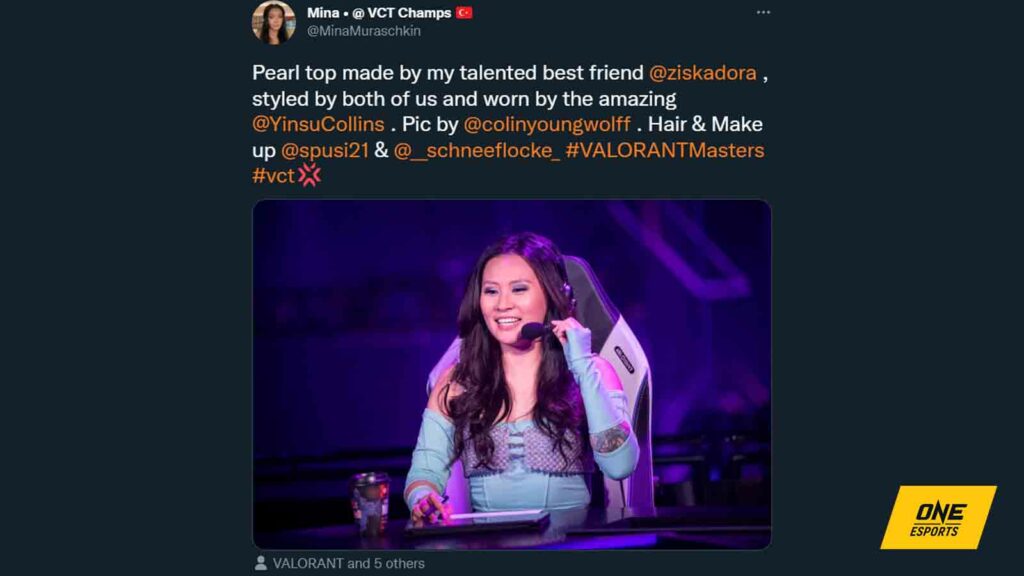 The freedom they received stems from Riot's governing philosophy for Valorant: self-expression. Executive producer JB describes it as a game where "style meets sport," conveyed through music, lighting, stage design, clothing, and even the individuals wearing them.
"I feel that makes our events really special because we're able to bring together a very eclectic group of individuals who are really good at their craft, and who bring their own special ingredients to VCT," JB told ONE Esports.
This style permeates every piece of VCT clothing on broadcast, which Christina and Mina described as elevated streetwear — cool streetwear that's not too casual and fits the branding of the entire show. On Riot's end, JB was specifically looking for artistes who shared this same approach, someone like Mina who was "fashion forward."
"You want to bring in people with a certain expertise, and you want to let them express themselves," JB explained. "We're looking for people that we can inspire, then use their art to create what they are supposed to create."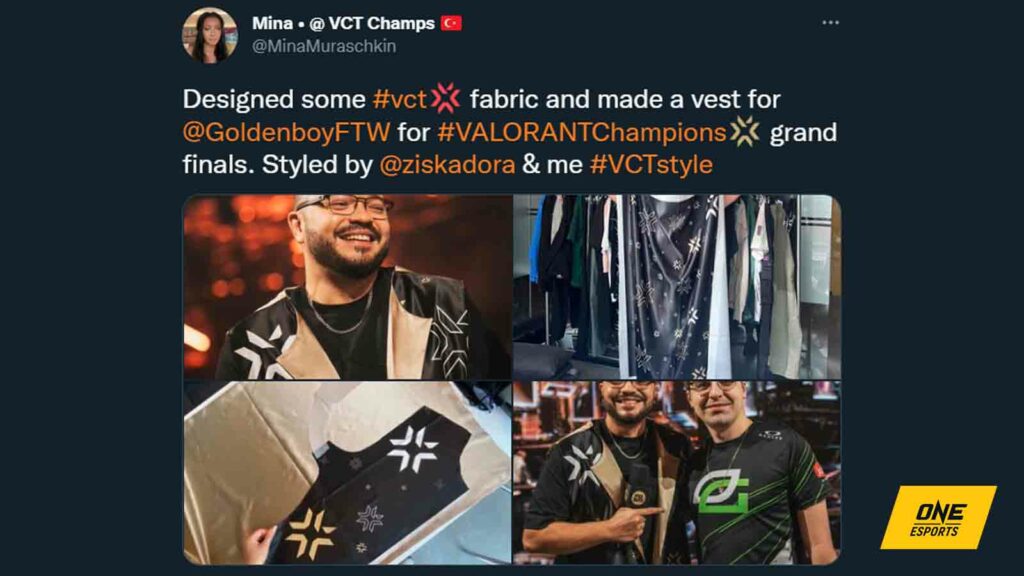 ---
VCT clothing collection previously debuted at Valorant Champions 2022
Masters Copenhagen concluded at the end of July 2022. Just over a month later, Valorant Champions kicked off in September 2022. The exclusive VCT clothing collection was first seen during Champions, and the fabrics were printed just one and a half weeks before the start of the tournament.
Mina and Christina didn't even know if the designs would be approved, but they decided to take a risk and brought them to Istanbul anyway in eight suitcases and four road cases.
"Sometimes I just do it and then show them. We come from fashion, so when I explain something, we can imagine what we mean, but other people who are not from the industry may not be able to," said Mina. Fortunately, Riot loved all of the prints, and within that short time frame, a mini collection was born.
Working with the same talents over the past year, they had also gotten to know them a lot better. Some of the women possessed more discerning tastes and already owned fashionable clothes and jewelry, which Mina and Christina took care to incorporate.
However, others did not feel comfortable in anything oversized, so elevated streetwear would not necessarily work for them. At the end of the day, it was important that talent felt comfortable because nothing was more gratifying for Christina and Mina than seeing them happy with the prepared wardrobe.
"On broadcast, you see hands a lot. Sometimes they're sitting, sometimes they're standing, so you have to make different adjustments," said Christina. "It's a little challenging, but fun!"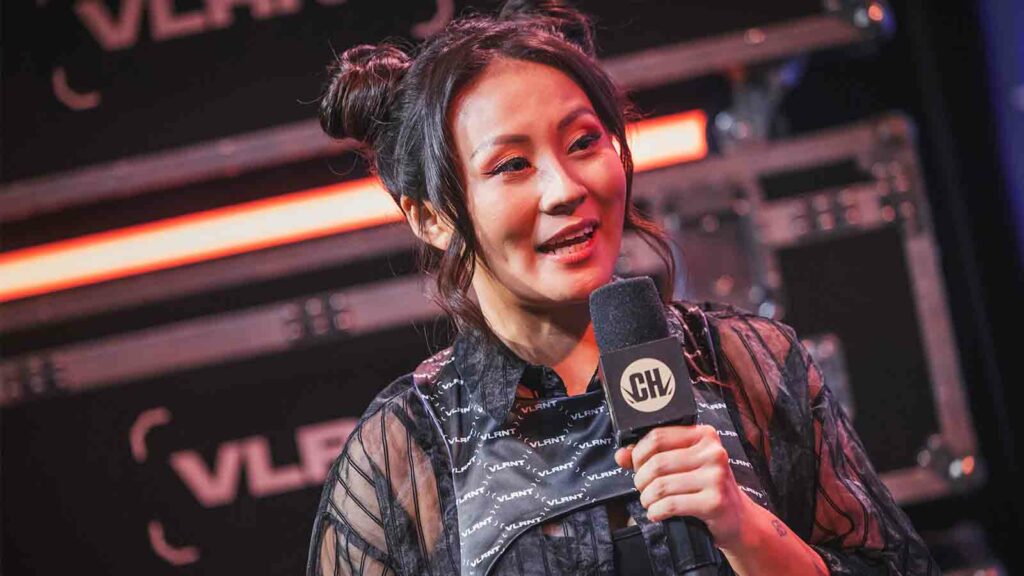 Host Yinsu "Yinsu" Collins has worn many custom-made garments on broadcast. Not only does she share the same personal style as them, she also entrusts them with total creative freedom.
"It's very easy to shop for her outfits. She's so open-minded and so excited about everything," said Christina. "She's super fun to work with and I think she enjoys it as much as we do."
2022 marked the first time that the duo worked with pro players. At Copenhagen, they first met with Paper Rex's Benedict "Benkai" Tan, and they collaborated with Riot's video team at Champions to shoot a scene with the players in streetwear.
"Some of the players had very strong opinions. We showed them this and they were like, no, no, no," Mina laughed.
"It's not a bad thing because they have a certain brand to represent, they have style, and we couldn't bring all the clothes we usually have for the talent, so we had limited options," Christina added.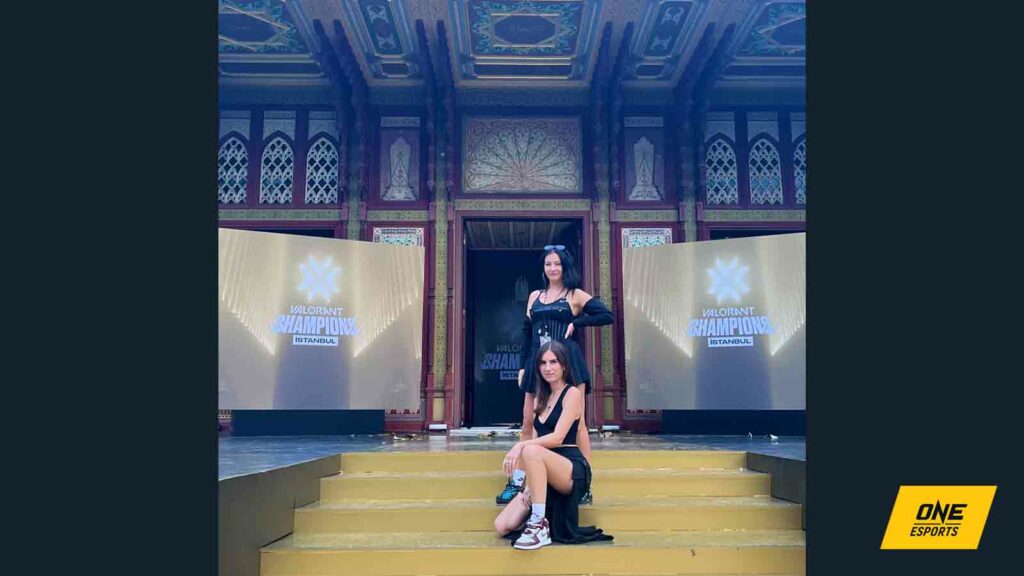 Coming from the fashion industry, they could not be more grateful for the opportunity to work in the VCT. Mina shared that there were times in the past when the artiste she dressed did not greet or acknowledge her, but this had never happened in esports.
"Obviously it's a lot of work," said Christina. "It's a long event and we put a lot of hours in. But when you come in and dress somebody, their eyes brighten up, they're so excited, and they give you a hug. It doesn't matter what their job is — we all have the same amount of respect for each other and we appreciate their work."
This may be why you're hard stuck in ranked, says Valorant dev
You'll need to outdo yourself.
BY WANZI KOH MARCH 3, 2023 11:00 AM
SHARE ARTICLECopied!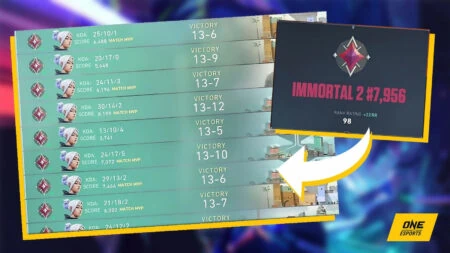 Updated on March 2, 12:50 p.m. (GMT+8): Edited article links.
The vagaries of Valorant's ranked MMR often have many of us puzzling over how exactly it all works.
Why is your duo partner gaining more RR than you? Why are you still hard stuck in Gold? A lot of that may come down to how consistent you are in-game, according to Jonathan "EvrMoar" Walker, Senior Competitive Designer on Valorant.
Ironically, being consistent may actually contribute to the feeling of being stuck, because your MMR then becomes more stable and harder to move.
---
---
Consistency is a big part of how quickly your ranked MMR increases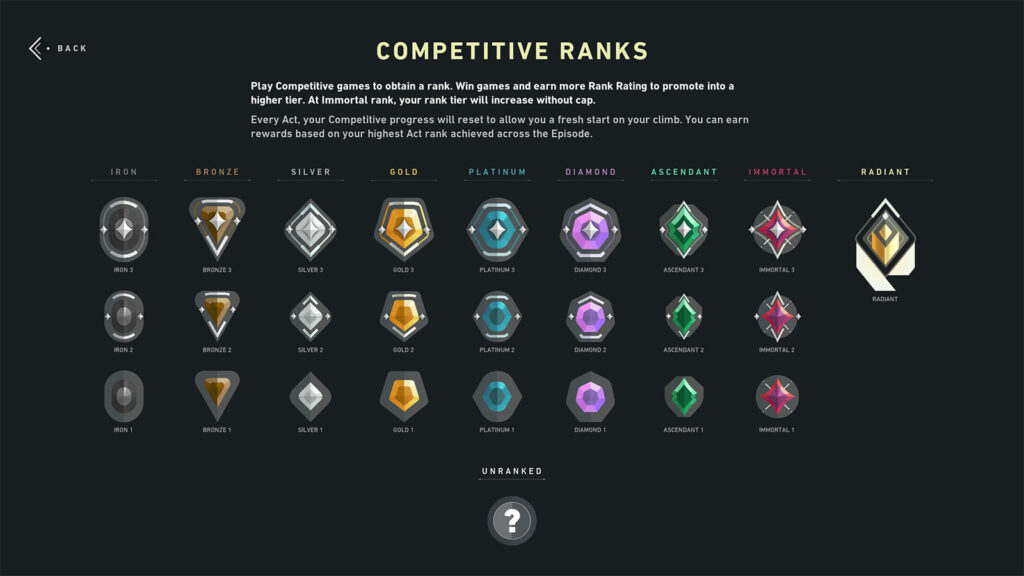 One popular belief is that it is more difficult to climb on older accounts because these accounts have more matches played, therefore making it more difficult to move the average MMR. That's not true, said EvrMoar.
Instead, Valorant's ranked system takes into account how consistent you are, which refers to the variance in your performance, and not the total matches played.
When Riot compared newer, alternate accounts to users' main accounts, it found that most of these secondary accounts got extremely close to matching the MMR on the main account. However, this was not always reflected in the account's actual rank, because players often stopped playing on it.
"If you are performing as expected, your variance will shrink, which makes your MMR harder to move," said EvrMoar on Twitter.
"But if you start performing outside of expectations your variance opens up and makes your MMR move fast. This is replacing the idea of total matches played MMR average."
If you're performing better than expected and winning, your MMR will increase more quickly, which translates into more RR gained. You might even enjoy a double rank-up, if your MMR is more than three ranks above your current rank.
"This is why win-streaking, and why winning duels against higher-ranked players, really helps you climb," he explained.
On the other hand, if you are performing reliably within the expected range, the grind may feel more tedious as you have to string together several wins in order to see tangible gains.
After all, when the system thinks your rank matches your MMR, you'll gain and lose similar RR from wins and losses — the very definition of being hard stuck.
Tarik and FRTTT to debut the new Valorant agent in VCT LOCK//IN showmatch
Tito Tarik is in Brazil.
BY NIGEL "ZIM947" ZALAMEA MARCH 2, 2023 3:11 PM
SHARE ARTICLECopied!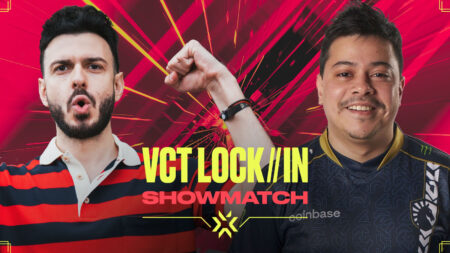 Updated on March 3, 5:01 p.m. (GMT+8): Added showmatch participants.
Two of Valorant's most popular streamers will be testing out the new Valorant agent in the first-ever VCT showmatch at LOCK//IN.
Sentinels' Tarik "Tarik" Celik and Team Liquid's Leonardo "FRTTT" Braz will lead their respective squads against one another in a best-of-one exhibition game.
The two captains will be playing debut the new character in front of a live audience in São Paulo, Brazil. It will be the first time we see Valorant agent 22 in action.
---
---
Streamers Tarik and FRTTT to play the new Valorant agent in VCT showmatch at LOCK//IN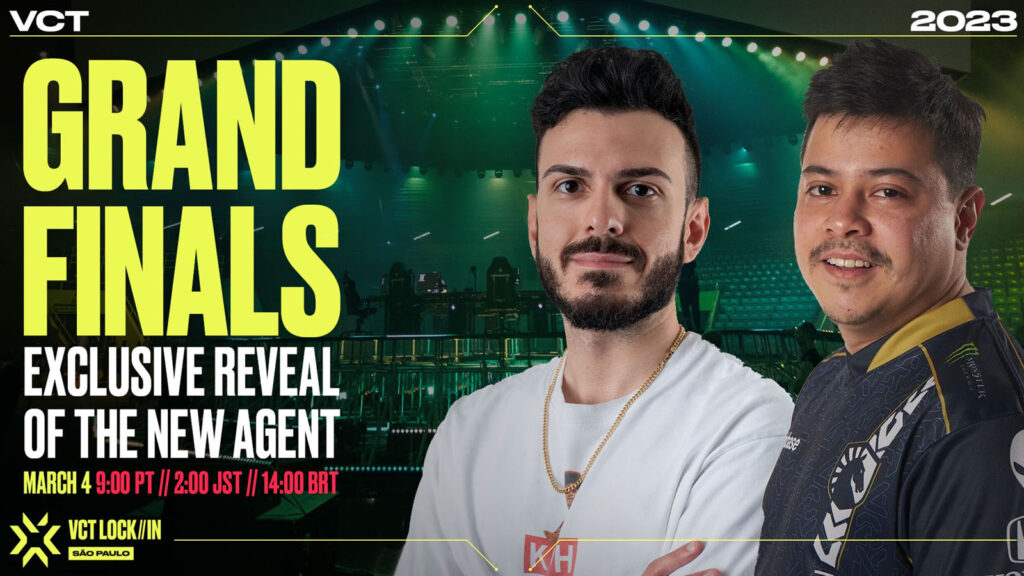 At the time of writing, Riot Games has announced six out of the ten players participating in the showmatch.
Joining Team Tarik are Brazilian Twitch streamer Paula "Paula" Nobrez and VCT Game Changers star Michaela "mimi" Lintrup. Meanwhile, Team FRTTT will have LATAM's finest, Javier "vela" Velasquez, and Global Esports' Ganesh "SkRossi" Gangadhar on his squad.
| | |
| --- | --- |
| TEAM TARIK | TEAM FRTTT |
| Tarik "Tarik" Celik | Leonardo "FRTTT" Braz |
| Paula "Paula" Nobrez | Javier "vela" Velasquez |
| Michaela "mimi" Lintrup | Ganesh "SkRossi" Gangadhar |
| Daniel Maza "SirMaza" Moltó | Bryan "pANcada" Luna |
| TBD | TBD |
The showmatch is set to take place on March 4 at 4:00 p.m. BRT | 9:00 a.m. PT | 5:00 p.m. GMT | March 5, 1:00 a.m. GMT8 – right before the start of VCT LOCK//IN's grand final.
---
---
Viewers who tune in to watch the showmatch and the grand final will be rewarded with an exclusive VCT LOCK//IN Dad Hat Gun Buddy, dropped on the official Valorant Twitch and YouTube channels.
Here is a complete step-by-step guide on how to get the VCT LOCK//IN Dad Hat Gun Buddy.
READ MORE: Unleash your inner demon with the new Valorant Oni skin bundle
Cloud9 officially parts ways with star player
North America's best is back on the market.
BY STEVEN "HEARTBREAKER" CROPLEY MARCH 2, 2023 12:21 PM
SHARE ARTICLECopied!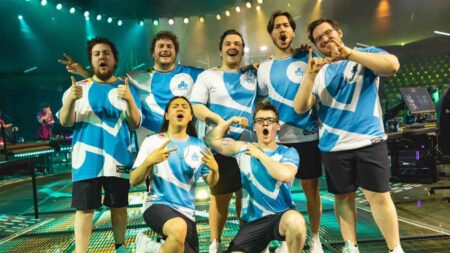 It's official. Cloud9 Valorant has revealed that Jaccob "yay" Whiteaker has been released from the roster.
This move comes after earlier reports that the organization was considering roster moves.
At the time, Max Katz stated yay was the target while Dotesports later said the decision was not finalized and claimed that no player was safe.
Now things are set in stone with el diablo being the odd man out.
The 24-year-old had an extremely successful run in 2022 with OpTic and was expected to do the same with his new organization. However, in their first international tournament, Cloud9 went 1-1 with a win over Paper Rex prior to a devastating loss to DRX.
The reason cited for the removal was role issues.
Cloud9 Valorant will go on without star player yay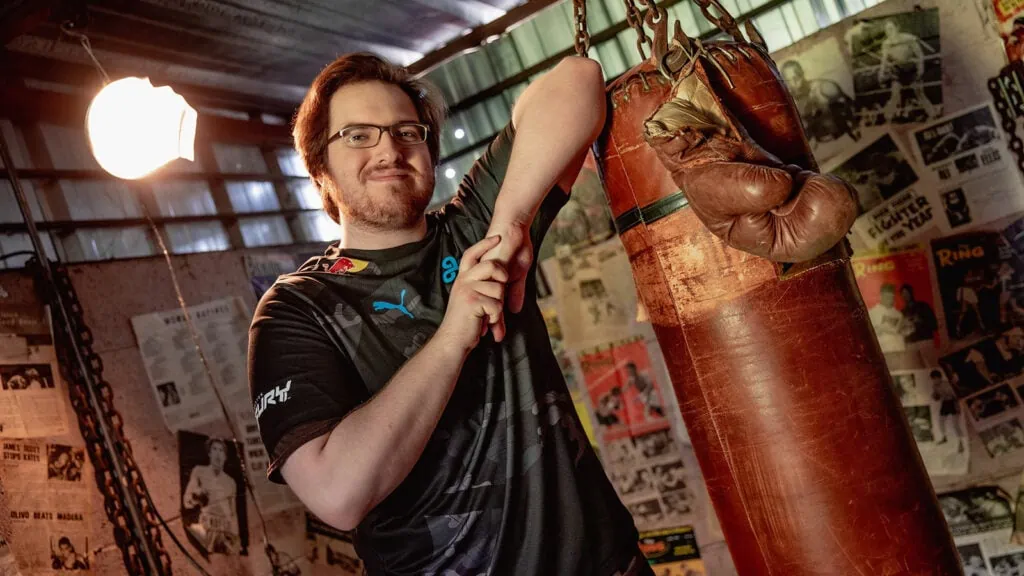 In the video announcing the change, head coach of Cloud9 Valorant Matthew "mCe" Elmore said, "there's a chance that this won't necessarily make us better in the short term."
He went on to explain that the goal of himself and Cloud9 as an organization is "moving towards the future, making sure that everything is working for the long term. So we might have to take a step back a little bit before we can take steps forward."
While he applauds yay's talent he goes on to state that he believes they're making the right choice for the team. As of now, the team is holding tryouts for a replacement, however, mCe added that even more changes could come in the future.
Where the new free agent will end up is also a popular question given it's unlikely he'll be left on the market for long. What this means is a team with very little experience playing official matches together is most likely going to drop a player to make room for the star.
Cloud9 is set to compete in the Americas regional league starting in March.
READ MORE: CS:GO legend s1mple says he would 'destroy' opponents if he joined NAVI's Valorant team
Why you should ego peek everyone in ranked to climb faster, according to Valorant dev
Poppin' swing them!
BY WANZI KOH MARCH 2, 2023 9:00 AM
SHARE ARTICLECopied!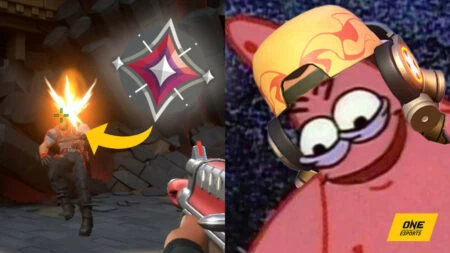 Updated on March 2, 1:01 p.m. (GMT+8): Edited article links.
Discipline is a big part of what wins rounds in Valorant ranked. Left in a 2v1 situation? Don't over-peek and give away the man advantage. If you're playing post-plant, don't get greedy and give your opponents the opening they were looking for.
But if you listen to this Valorant developer, there may actually be a case to be made for taking as many duels as you can.
Avoiding higher-ranked opponents may help you live longer in-game, but it doesn't help you climb, said Senior Competitive Designer Jonathan "EvrMoar" Walker on Twitter.
However, if you succeed in taking them down, you'll be reaping bountiful MMR gains before long.
---
---
Now you have an excuse to ego peek everyone you see in Valorant ranked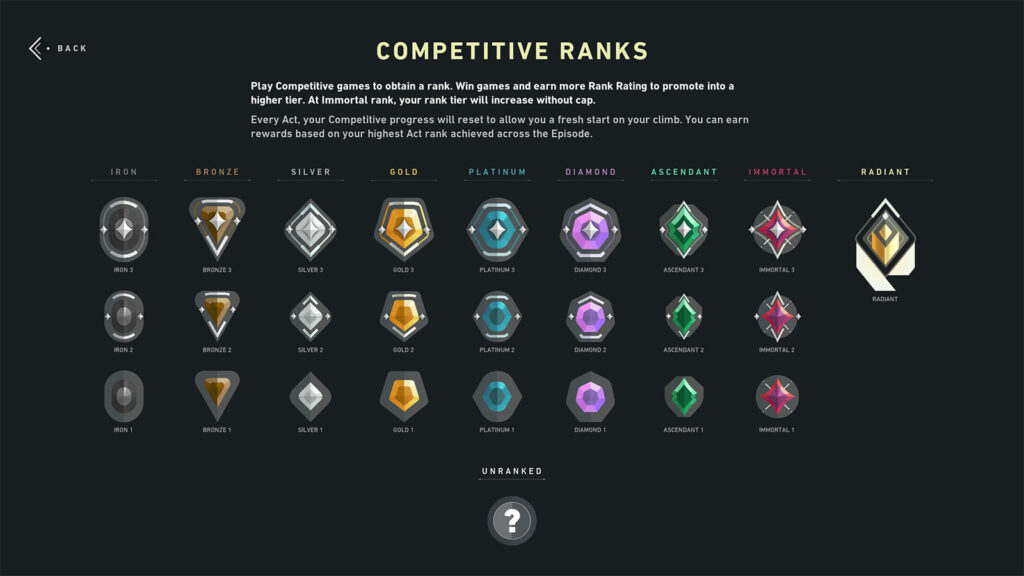 "If you can take out a higher ranked player you will gain more MMR from them than if you were to defeat the lowest skilled player on the enemy team," he explained.
"Defeating a silver player only shows you're silver. But defeating a Diamond helps show that you are Diamond," he added. "AKA go ego peek those high ranks. This will also increase your performance bonus — you will get it more often and get a bigger RR bonus from it."
Valorant uses a mix of both Encounter and Win/Loss MMR. In a nutshell, Encounter MMR is affected by how you do against players on the enemy team, taking into account their rank relative to yours, while Win/Loss simply looks at whether or not you're winning games.
At lower ranks, Encounter MMR plays a bigger role in determining your overall MMR and rank. But at Immortal and higher, Win/Loss MMR takes precedence, and players also do not receive any performance bonus in terms of RR.
While some players like former NRG player Bradley "ANDROID" Fodor were concerned that this meant that the system favored duelists, who would have more opportunities to find kills, EvrMoar said that support players aren't left out because ability usage and assists are factored in as well.
"Abilities and assists also count, you get a percentage of the MMR of any interaction you were a part of," he said. "Playing support is super viable."
Ultimately, you shouldn't be afraid to challenge any of your opponents, said EvrMoar. Confidence is a key part of winning games, and if you manage to take down someone higher up the ladder (and win the match), there's plenty of MMR for the taking.
READ MORE: TenZ's best advice on spray control and managing economy in Valorant
What the VCT Game Changers initiative means for me and other female Valorant players
Real talk: it can be scary being a female gamer.
BY MIKA FABELLA MARCH 1, 2023 1:00 PM
SHARE ARTICLECopied!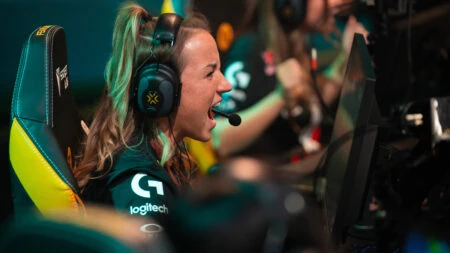 Updated on February 27, 5:14 p.m. (GMT+8): Improved relevancy.
Despite having a male-dominated professional scene, there's a huge fanbase of women who play Valorant. Many female streamers include the game in their regular stream schedule and in the esports scene.
However, there is a glaring problem for female gamers. While I've been lucky enough to be surrounded by great male teammates in Valorant, not a day goes by that I don't see a fellow female Valorant player on social media sharing in-game encounters with misogynistic comments, unwanted suggestive messages, or being shunned from a game just because the group found out they were playing with a girl.
Let's face it: it can be scary being a girl who plays Valorant. It can be scary being a girl who plays anything.
One only has to go through the comments on any female streamer's feed and see just how scary the gaming world can be for a female gamer, and more so aspiring female esports athletes. It's the reason some women (myself included) will opt not to communicate in-game during public matches.
---
---
We have seen all-female esports leagues in recent years push for more inclusivity and visibility for women. While some may argue that having a separate female league only widens the gap between male and female competitive performance, as it is, the current competitive esports scene generally doesn't make women, or other genders, feel very welcome, and Valorant Executive Producer Anna Donlon recognizes this.
"Competing in games as a woman can be a daunting task, oftentimes resulting in a very real competitive disadvantage," says Donlon. "While we're addressing this challenge in-game, with improvements to chat, voice communications, and mitigation of griefing, we also see an opportunity to take another step with esports."
Enter the Valorant Champions Tour (VCT) Game Changers, a new initiative by Riot Games to create new opportunities for marginalized genders in the Valorant community. Game Changers aims not just to be another all-female league, but a year-long effort alongside the Valorant Champions Tour to build more long-term inclusivity and diversity in the community.
---
---
What is VCT Game Changers, and how does it help female Valorant players?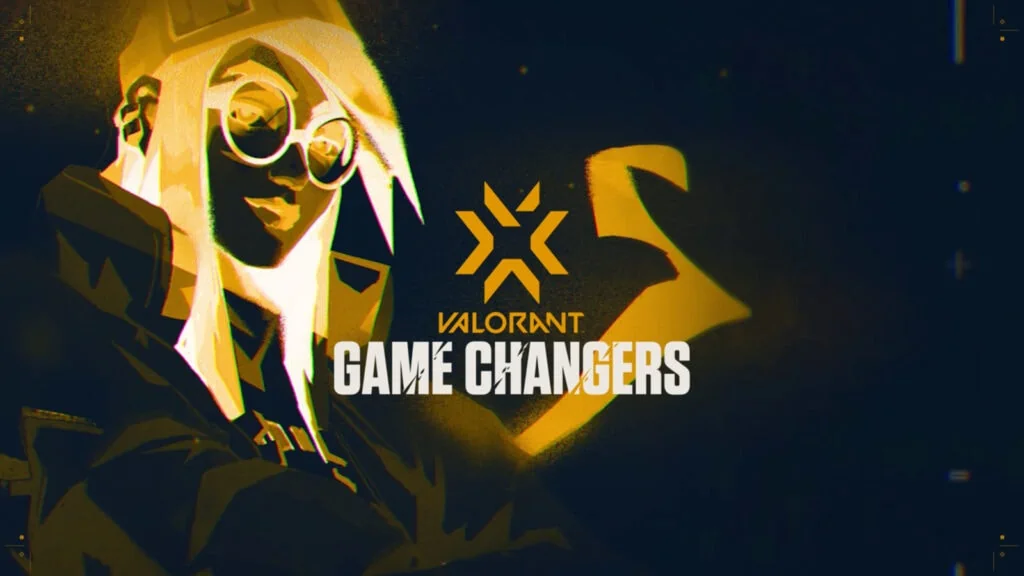 Game Changers is composed of two core initiatives — the VCT Game Changers Series and the VCT Game Changers Academy. The VCT Game Changers Series is a worldwide series of competitions, similar to the Ignition Series of 2020, hosted by Nerd Street Gamers.
The VCT Game Changers Academy program is more developmental in nature, with monthly tournaments at the semi-pro and grassroots level. This was a partnership with GALORANTs, the same community behind the "For the Women Summer Showdown" in September 2020.
"Game Changers will provide tournaments and development programs for women who want to take their game beyond competitive ladder play," said Whalen Rozelle, the Senior Director of Esports at Riot Games. "With VALORANT esports, we're committed to fostering an inclusive environment for competition and creating safe opportunities for women to compete without fear of identity or gender-based harassment."
It'd be great to think that we didn't need initiatives like vct Game Changers, and that anyone has the tools at their disposal to be a professional player. But the truth is, the playing field isn't level — not yet.
Historically, men have had more opportunities in the esports and gaming space and therefore have had more room to hone their skills. Events like Game Changers allow women and other genders the space and the opportunity to improve and cultivate their skills, until the time such that there won't need to be events for marginalized genders any longer.
Hopefully, with Game Changers, we take steps in the right direction to make the gaming community feel safer and more inclusive, with more women and other genders more visible as competitive players and as esports champions.
Follow ONE Esports on Facebook for more Valorant news, guides, and highlights.
READ MORE: Top 10 highest-earning Valorant players list dominated by just one country
The Guard undergoes massive layoffs, temporarily hangs on to these three rosters
Rough days ahead.
SHARE ARTICLECopied!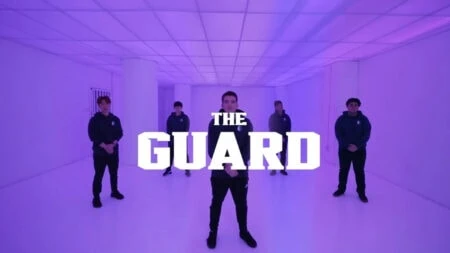 The Guard's future suddenly looked uncertain when multiple employees stated they were unceremoniously fired on February 23.
According to the North American esports organization's former producer Hunter Grooms, 29 employees across various sectors from their marketing, design, talent, and content teams were blindsided by mass layoffs.
However, at least for now, the Guard is expected to keep its Valorant, Call of Duty, and Overwatch League teams.
---
---
The Guard's future plans after its internal collapse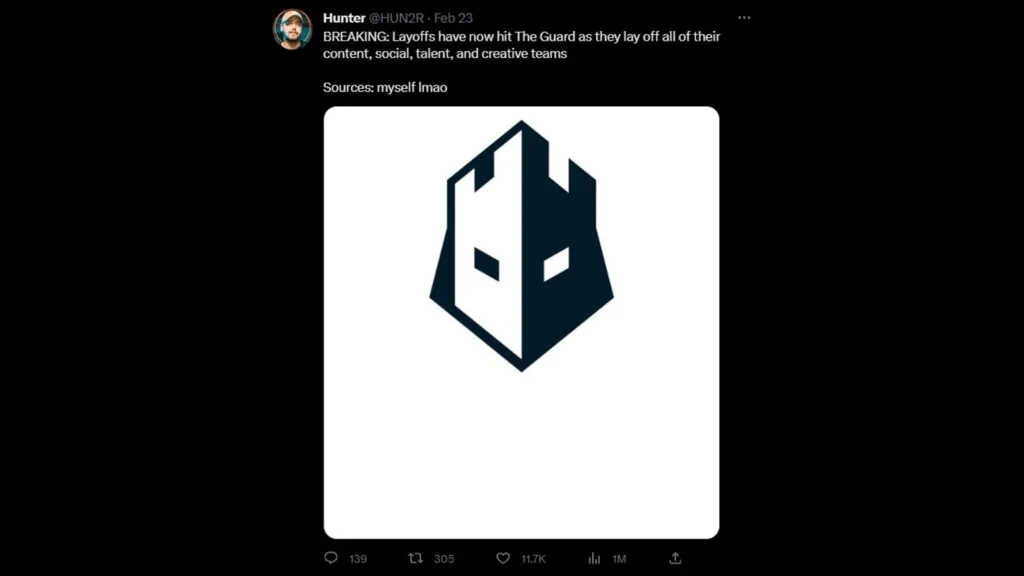 According to a report by James Fudge from the Esports Advocate, the organization's esports teams will remain operational.
The Los Angeles Guerrillas and Los Angeles Gladiators – The Guard's CoD and Overwatch League teams – will continue with the organization until a buyer is found for both teams or until each team's respective league season ends.
The same outcome is expected for their Valorant roster, a squad filled with rising stars in the North American region. They are currently competing in Valorant Challengers NA Split 1. This comes after the org was not selected as a franchise team for the VCT 2023 season.
Michael "neT" Bernet, the Valorant team's sentinel and controller player, was also surprised by the organization's decision to fire most of its staff members. He also offered his support to those affected.
"I don't really have words for what happened," he tweeted. "But I do know one thing. The former and current employees are all gems of human beings. Any org would be lucky to have every one of them."
The Guard has yet to officially state why they let go of multiple employees or what they plan to do next with their esports teams.
READ MORE: Ludwig flexes streamer money, buys NA Challengers Valorant team for half a million dollars
Unleash your inner demon with the new Valorant Oni skin bundle
Sugoi!
SHARE ARTICLECopied!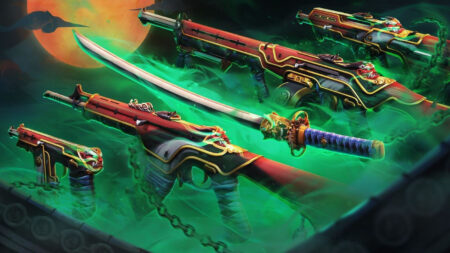 Credit: ValorLeaks
The fan-favorite Valorant Oni skin bundle is finally making its highly-anticipated return.
The first Oni set was released in Episode 1 Act 1 on June 2020. After waiting nearly three years, Valorant cans can finally expand their Japanese-themed weapon skin collection.
The previous bundle included Shorty, Bucky, Guardian, Phantom, and a claw-type melee. The weapons had muzzle flash, unique visual and special effects, and a finisher animation.
When you get the last kill, your opponents turn into a ghost that wears an Oni mask and is chained to the ground using samurai blades.
---
---
The new Valorant Oni skin bundle comes with a katana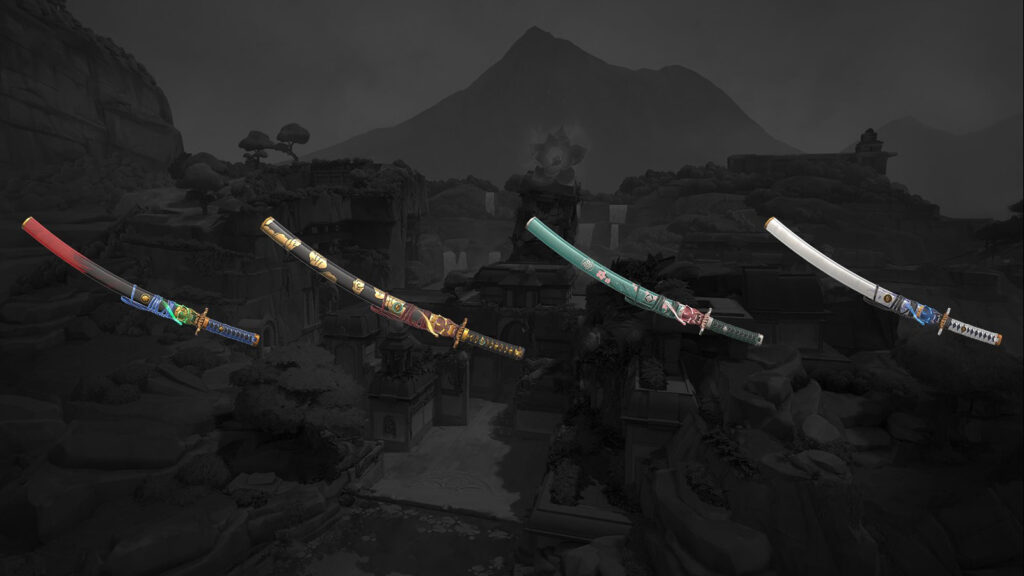 The Oni 2.0 bundle includes skins for the Frenzy, Bulldog, Ares, and Vandal, along with a menacing katana melee.
The next batch of Oni skins follows the same design theme as its predecessor, though it will have unique sounds and animations as well as updated bullet sound effects, according to Preeti Khanolkar, Valorant's Lead Producer for cosmetic content.
"There is firing audio, unlike the original Oni," said Khanolkar on Reddit. "It's subtle because we want it to feel good for people who preferred the default sound of the original Oni."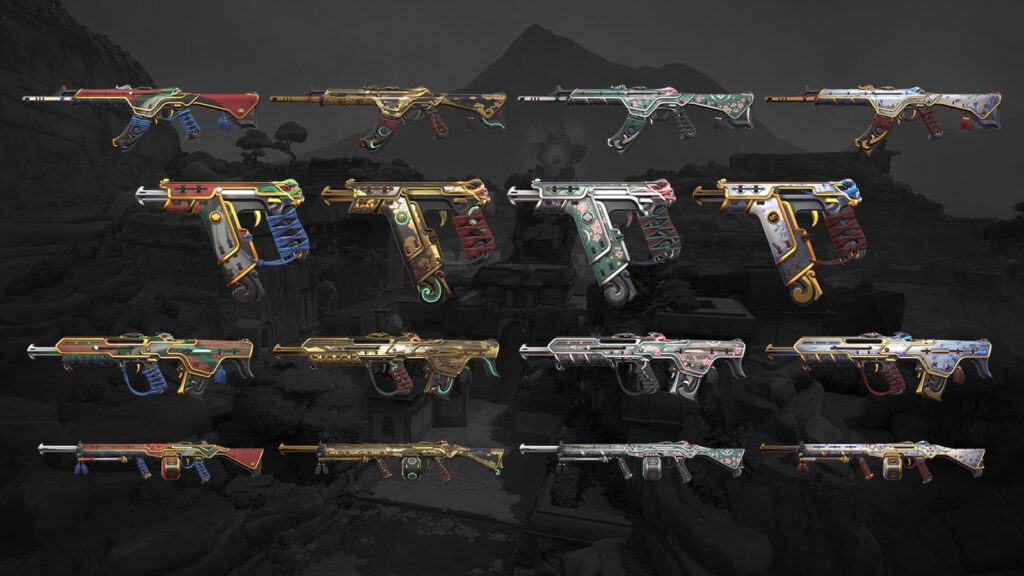 Khanolkar also explained that the new Oni skins will have the same color variants, including red and blue, gold and black, blue and white, and green and pink – similar to the previous bundle.
The new Valorant Oni skin bundle will be released at the start of Episode 6 Act 3 next month. Riot Games has yet to announce the price of the Oni 2.0 bundle or its rarity. The previous Oni set was listed as a premium bundle, a tier that costs players 7,100 Valorant Points for the whole set (VP).
We are dying to take home this real-life Zedd Spectrum Phantom
Start the party with this Phantom.
SHARE ARTICLECopied!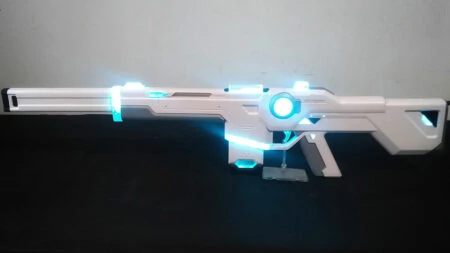 Have you ever wanted to know what the Spectrum Phantom skin from Zedd's one-of-a-kind Valorant collection would look like in real life? Well, this talented Filipino crafter just built a life-sized replica of the weapon from scratch.
Amado Carl Hernandez shared with ONE Esports how he got his start creating cosplay props, and why he decided to make the Spectrum Phantom skin.
---
Filipino crafter Amado got his start making cosplay props
As someone who grew up playing various console games, Amado spent a lot of time exploring RPGs and JRPGs. He then transitioned to playing PC game titles like Counter-Strike, Warcraft, and Dota, which reinforced his passion for gaming.
Amado began his journey as a crafter in 2008 by making weapons out of just wood and paper. "I really love making weapons and props, especially from video games," he shared. "There is really something about video game weapon design that makes me want to see them come to life."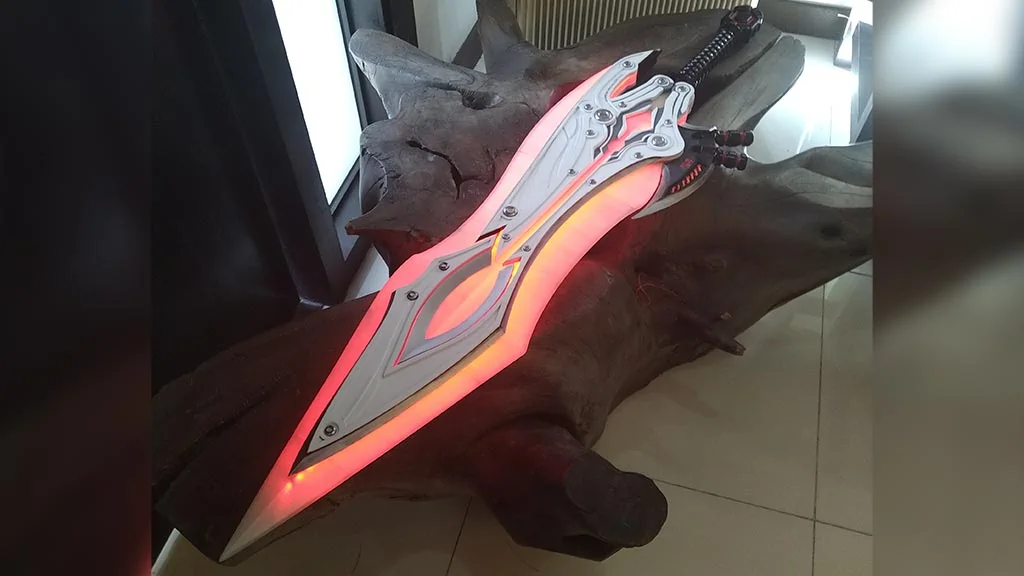 If you're a huge Final Fantasy fan like Amado, you should check out the Crimson Saber he crafted from Final Fantasy Brave Exvius. It was a project that was commissioned by Square Enix and was a dream come true for the talented Filipino crafter.
---
---
How Amado created the replica of the Spectrum Phantom skin
The Spectrum Phantom project started when none other than Team Secret's Riley "Witz" Go commissioned Amado to create a replica of the skin. You may remember Witz as the exuberant showman who entertained fans with his iconic Filipino dance moves during Valorant Champions 2021.
Amado was intrigued by the color-shifting nature of the collection, which was the result of a collaboration between Riot Games and popular Russian-German DJ Zedd.
"I really love challenges and at the time it was something that hadn't been done yet," said Amado.
The process to bring the Spectrum Phantom skin to life was long and painstaking. Amado first modeled everything in Autodesk Fusion 360, which took a total of 36 hours. He then 3D printed the designs using fused deposition modeling (FDM) and stereolithography (SLA), an even lengthier process that spanned an entire week.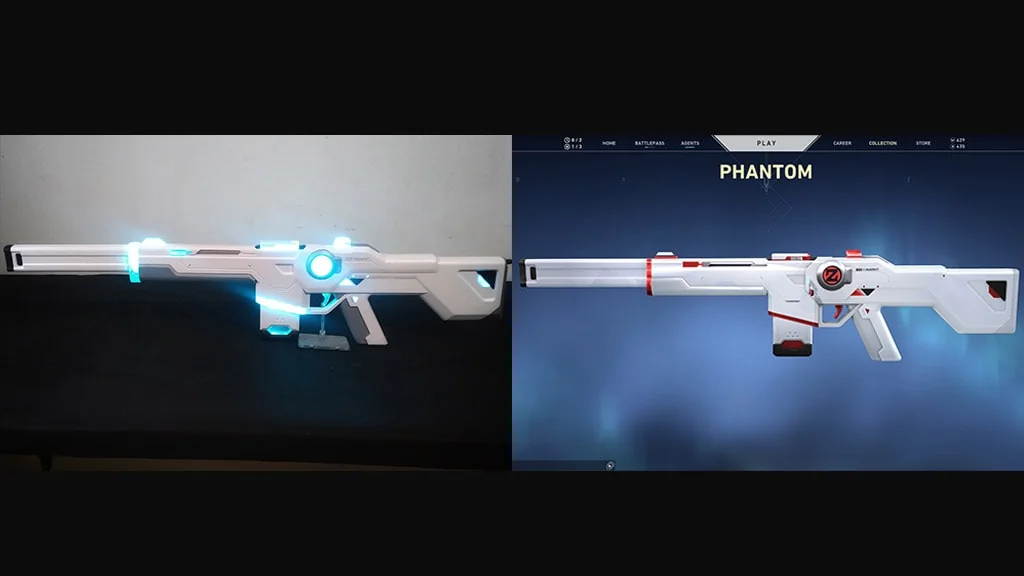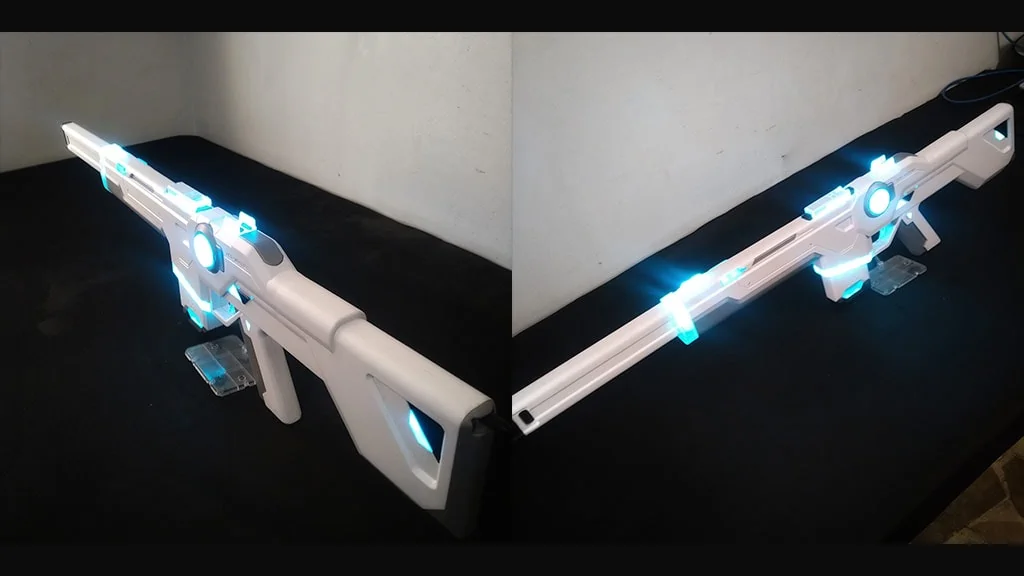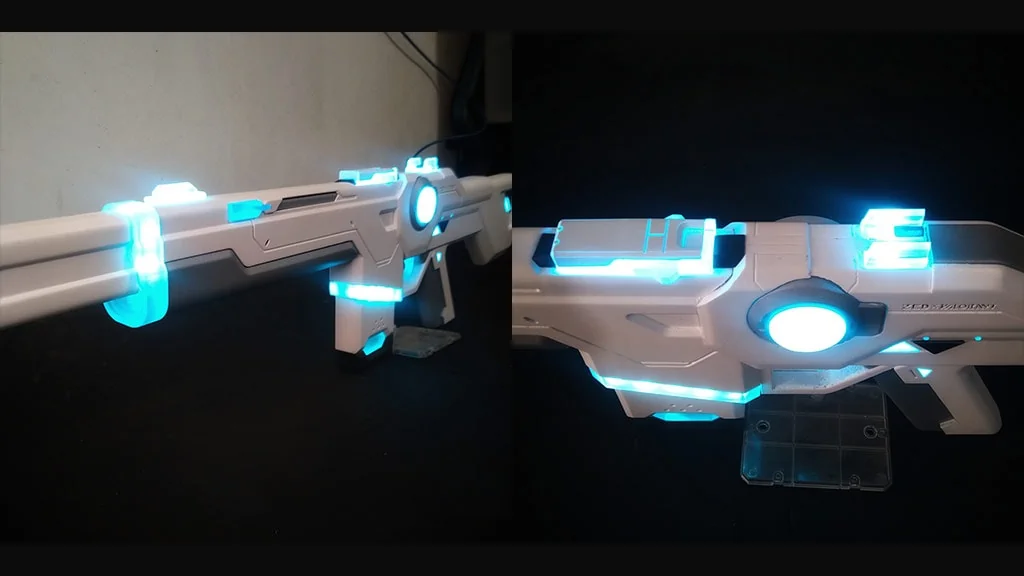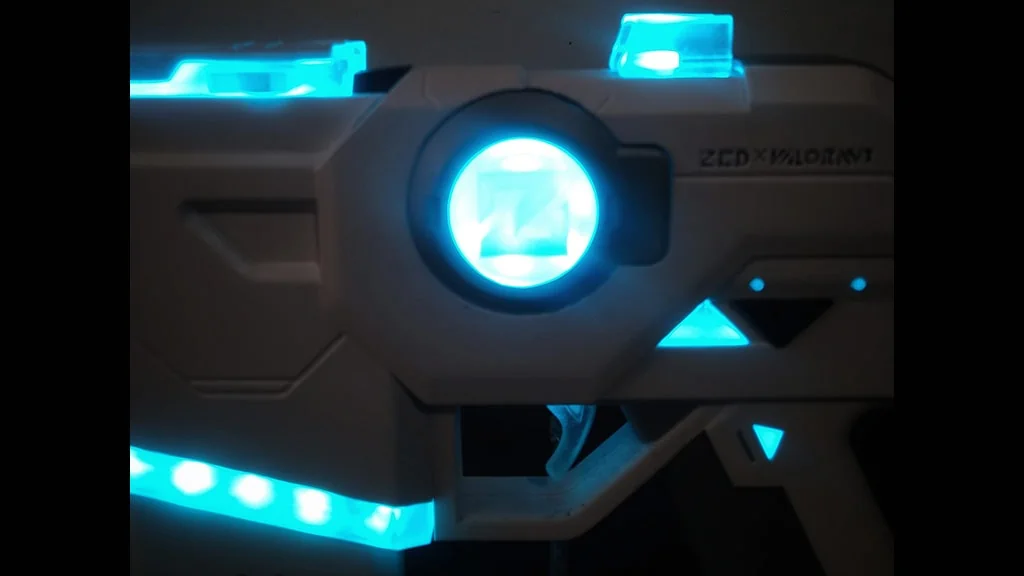 Finally, Amado finished the weapon with a layer of acrylic paint, which took another four days to achieve the most accurate look.
The Zedd Spectrum Phantom skin also comes with a remote-controlled RGB LED light that shifts colors, similar to its in-game counterpart.
To see more of Amado's work, you can visit his official Facebook page.
READ MORE: Bounty Hunter agent abilities leak reveals Valorant's most fearsome initiator yet
Ludwig flexes streamer money, buys NA Challengers Valorant team for half a million dollars
Streamers are the future of esports.
SHARE ARTICLECopied!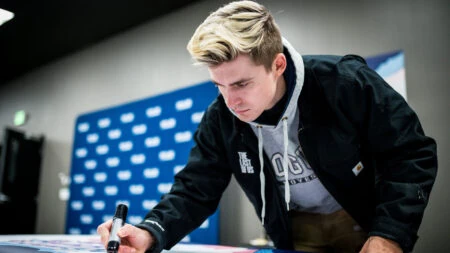 Ludwig "Ludwig" Ahgren announced that Moist Esports has officially entered the Valorant esports scene.
The streamer and content creator had been exploring signing his own Valorant team after joining Moist Esports as a co-owner last month. He partnered with Charles "MoistCr1TiKal" White, the founder of Moist Esports.
Ludwig revealed in a tweet that his esports organization spent US$500,000 to sign Breakthru, a Valorant team competing in the Valorant Challengers NA Split 1.
The former Breakthru players will play under the new Moist Moguls banner when the North American Challengers league returns on February 27.
---
---
Ludwig signs Breakthru to Moist Mogul's Valorant roster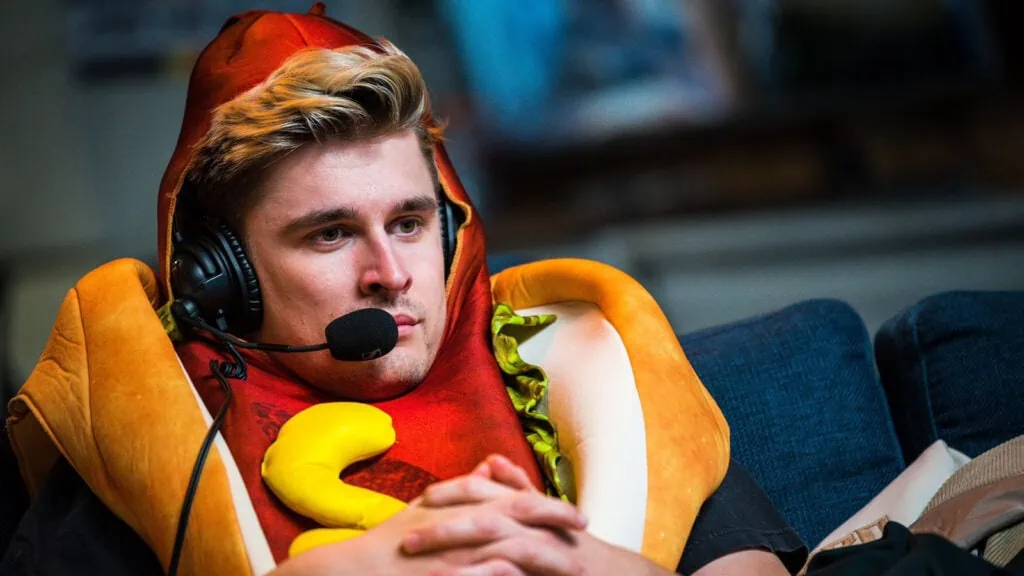 Alex "aproto" Protopapas
Brock "brawk" Somerhalder
Xavier "flyuh" Carlson
Tyler "sym" Porter
Brady "thief" Dever
Tanishq "Tanizhq" Sabharwal (coach)
Moist Mogul is Ludwig's first venture in the competitive Valorant scene. He has funded multiple gaming events in the past including Super Smash Bros. Melee tournaments and a Valorant LAN Invitational.
Moist Esports currently fields teams in Apex Legends, Super Smash Bros. Ultimate, and Rocket League.
Coincidentally, Ludwig spent the same amount of money as Jeremy "Disguised Toast" Wang when the latter signed Team DSG, another Valorant team solely funded and run by a content creator.
Moist Moguls and Team DSG are both competing in the Valorant Challengers NA Split 1, the first leg of the Challengers league competition that features Tier 2 Valorant squads. Ludwig challenged Disguised Toast to a showmatch between their Valorant rosters, and the losing owner would have to shave their head.
In a previous YouTube video, Ludwig discussed his motivation for entering the esports scene. He went as far as to say esports was not a good business, describing the industry as propped up by cryptocurrencies and venture capitalist groups.
Despite the problems plaguing esports organizations, the 27-year-old said that he simply loves esports even though it will burn a lot of money.
Moist Moguls will face Turtle Troop on February 27, 4:00 p.m. | 12:00 a.m. GMT | February 28, 8:00 a.m. GMT+8 on the third week of Valorant Challengers NA Split 1.
READ MORE: CS:GO legend s1mple says he would 'destroy' opponents if he joined NAVI's Valorant team
How to unlock agents in Valorant
Do your daily missions.
SHARE ARTICLECopied!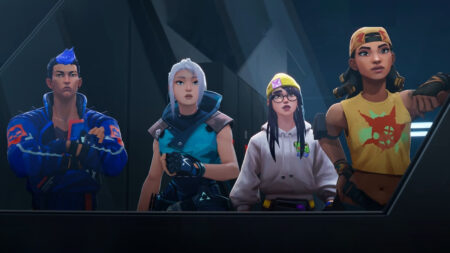 Updated on February 27, 5:35 p.m. (GMT+8): Edited introduction, added photos.
If you're new to Valorant, you'll notice that you can only play a select few agents in the game.
Only five agents are immediately available for players, so it is essential to know how to unlock agents in Valorant.
There is a maximum of one unique agent per team, so it's important to unlock as many agents as you can so that you won't be forced to play a character you're unfamiliar with.
In addition, a larger agent pool will give your team more options when selecting duelist, controller, initiator, and sentinel roles.
This is how to unlock agents in Valorant
It is important to understand how experience points (XP) work in Valorant. You can earn XP by completing the tasks in your daily and weekly missions.
Reaching certain XP thresholds will unlock tiers in your agent contract. To unlock a new agent in Valorant, you must first go to the agent tab on the main menu, select the agent you want to unlock, and activate their contract.
Keep playing until you reach tier 5 of the contract and earn 60,000 XP to unlock the selected agent.
Players can also purchase new agents for 1,000 Valorant Points (VP), which is around US$10 – the same amount as the Valorant Battle Pass.
Step-by-step guide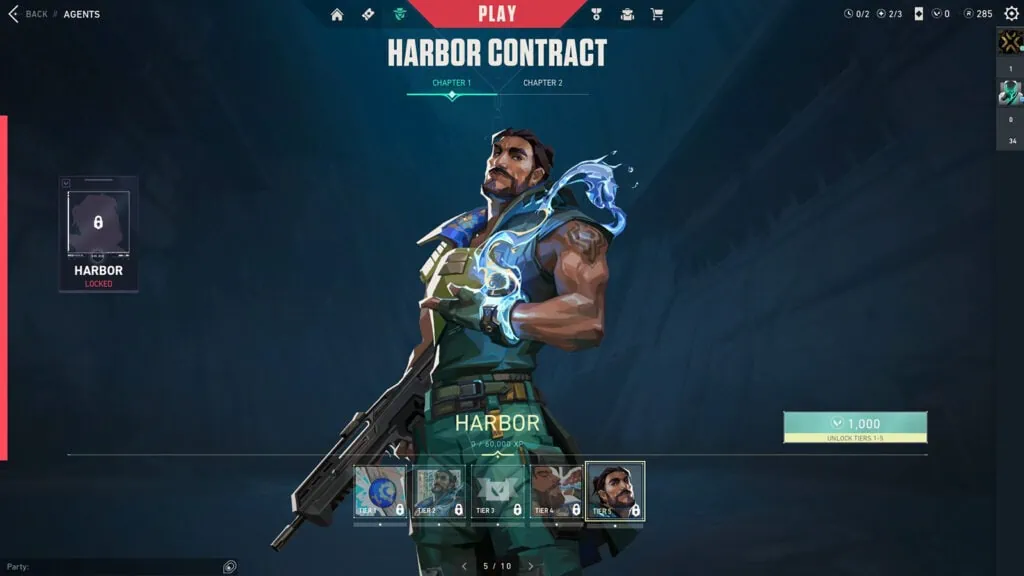 Log in to Valorant
Select the Agents tab on the main menu
Select the agent you want to unlock
Activate the agent contract
Complete tier 5 of the contract and earn 60,000 XP